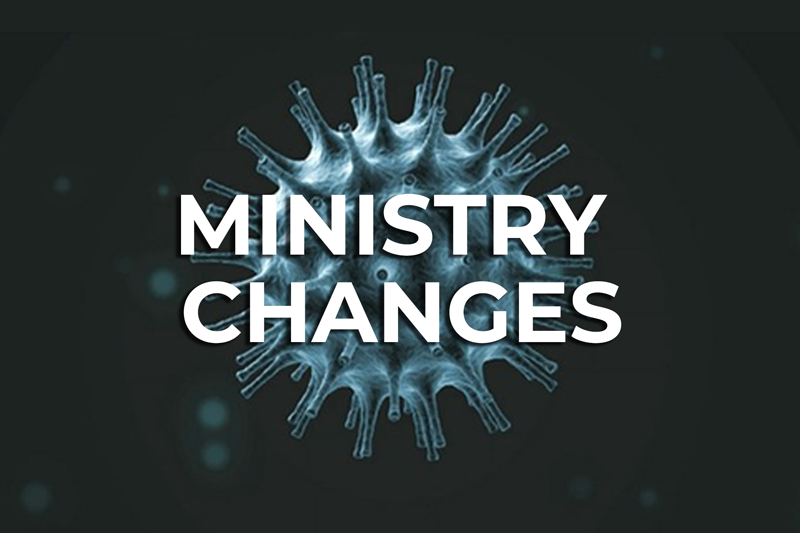 Due to the novel coronavirus we've entered into a season of change in the life of the church. However, we aren't 'cancelling' church. While we do have to cancel in-person gatherings, services, and events, you cannot cancel the church. Why? Because the church is the people of God. And we will always find creative ways to worship the Lord, pray, connect with others, and to serve God and our community. The next season of our lives together will be different, but we get to decide if it will be fruitful for the kingdom. I invite you to join me in seeking to be the church in these different circumstances. I believe God will surprise us in these uncertain times.
Please take a moment to look over the announcements listed below. This is simply the first wave of changes that we're making. Our leaders are actively praying about ways to engage our members in discipleship and worship opportunities in the coming weeks.
Closures
With the exception of our Food Bank, all activities at the church are cancelled until further notice. The church office will be closed to the public. Stephanie will be working from home and will be returning voice mails left at the church and responding to emails sent to office@aldersgateremount.org.
Worship
We will not hold in-person worship until further notice. We invite you instead to join us for our first live-streamed service this Sunday on Facebook Live at 10:00 am. We are working to further develop our online service and optional small in-person worship communities for future Sundays.
To view our service this Sunday, visit our Facebook Page.
Bible Study
We will offer our Romans study via Facebook Live this starting next Wednesday, March 25th, at 6:00 pm. To view the study please visit our Facebook page and watch the video feed. The Bible study will be approximately 30 minutes and will cover chapter 12 of Romans.
Food Bank
The Food Bank will be our only in-person ministry at the church at this time and will operate on a limited basis outside to create a cleaner environment. Guests will be offered a pre-packaged food bag. We will move to offering our Food Bank every Wednesday at 10 am.
Giving
Thank you for your ongoing support of the ministries at Aldersgate. We are committed to maintaining our staff and pivoting our ministries to engage people with the gospel and discipleship opportunities during this season of life. Your giving is vital to helping Aldersgate remain a strong and faithful church.
There are a variety of ways you can give to God's work through the church, including mailing, drop off at the church office, automated giving via your financial institution, or online through our website. You can establish one time or recurring gifts by clicking the button below.
Member Care
If you know of any members who may be isolated or without essentials, please contact the church office or Julie Peacock. We are currently working to organize our Nurture Team to provide connections and care to our various members who may be in need.